DuPont™ Tedlar™ Wallcoverings Debuts New Avant-Garde Collection at NeoCon

New textured wallcovering collection mirrors the look and feel of metal, wood and stone, while still offering flagship protection features
WILMINGTON, Del., June 10, 2019 – DuPont is excited to announce DuPont™ Tedlar™ Wallcovering's new Avant-Garde collection, and additions to the Celestial collection, giving customers fashion forward options for a wide range of indoor spaces.
Wood, metal and stone are the essential building blocks for any great architecture. The Avant-Garde collection embodies the look and feel of these materials in a durable, cleanable wallcovering. The collection's new alloy pattern has a varying mixture of texture that lends to a patina metal look.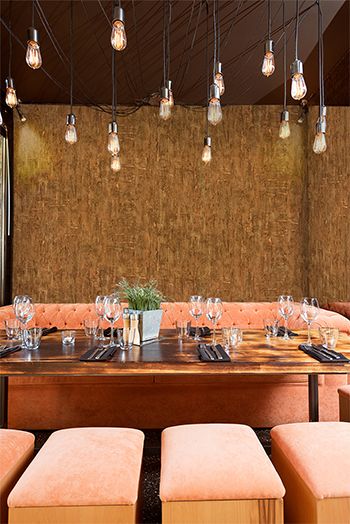 "Our Design Council has been hard at work matching trends in interior design and architecture to the latest must-have design elements, and natural materials are in demand right now," said Fallyn Flaherty-Earp, Wallcoverings Marketing Manager at DuPont. "We are excited to offer the finished look that these materials create, with a protective wallcovering that has the scratch and stain resistance designers want for high-traffic spaces."
Two additions to the Celestial collections give designers more choices for creating statement spaces. The orbital pattern paints a large scale circular progression in a playful bold pattern with vibrant colors. In contrast, northern lights represents a muted and beautiful collision of color and movement in a mixed palette of rich hues.
"These new patterns give the A&D community the versatility of texture and color to take their vision from design to reality - on budget and on-trend," adds Flaherty-Earp. "We are proud that these new patterns also hold the GREENGUARD Gold certification which is important to designers and customers alike."
Designers can learn more about the UL GREENGUARD Gold environmental certification of our products at the SPOT Products Catalog. Search "Tedlar" to see certifications for our wallcoverings.
The collection comes just in time for visitors to the NeoCon trade show in Chicago, beginning today. Visitors to the show can see the latest designs in DuPont's booth 7- 4104 and join the team for a special event today (Monday) from 2 p.m. – 4 p.m. CT.

A Type II wallcovering with Type III characteristics, DuPont™ Tedlar™ Wallcoverings are easy to clean and provide stain resistance and durability, all with the modern, fashion-forward aesthetics today's designers want. The DuPont technology behind this new wallpaper has been used since 1948 for surface protection in many market applications ranging from aircraft to automotive, rail and bus interiors, to fleet graphics and other wall overlaminates. DuPont™ Tedlar™ Wallcoverings are made in the USA and sole-sourced through Endure Walls™. To learn more, please visit tedlarwallcoverings.dupont.com.